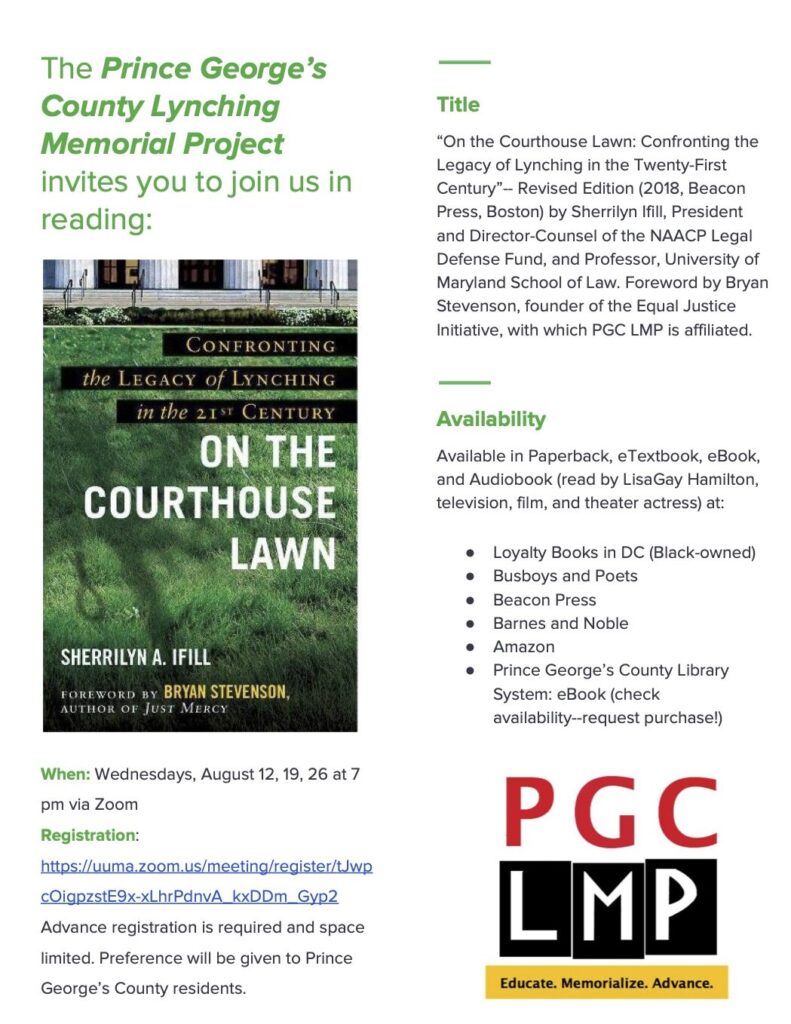 The Prince George's County Lynching Memorial Project is offering a free Study Group on the acclaimed book  "On the Courthouse Lawn: Confronting the Legacy of Lynching in the 21st Century" by civil rights attorney Sherrilyn A. Ifill. We are reading the 2018 Revised Edition with a forward by Bryan Stevenson, author of "Just Mercy" and founder of the Equal Justice Initiative. The book focuses on Eastern Shore lynchings that took place on county courthouse lawns, as did several here in Prince George's County.
When: Wednesdays, August 12, 19, 26 at 7 pm via Zoom.
We will likely discuss Part One in the first two sessions and Part Two in the third session. Please try to attend all three! 
Advance registration is required:
https://uuma.zoom.us/meeting/register/tJwpcOigpzstE9x-xLhrPdnvA_kxDDm_Gyp2
Available on-line in Paperback, eTextbook, eBook, and Audiobook (read by actress LisaGay Hamilton) at:
Loyalty Books in DC (Black-owned)
Better World Books (non-profit source of used books)
Busboys and Poets
Beacon Press (the publisher)
Barnes and Noble
Amazon
Prince George's County Library System (check availability–request purchase!)
Don't forget to register yourself!