The Prince George's County Lynching Memorial Project is honored and excited to congratulate the winners of our racial justice essay contest and our racial justice creative arts contest. Each of our winners is a student at a high school in Prince George's County.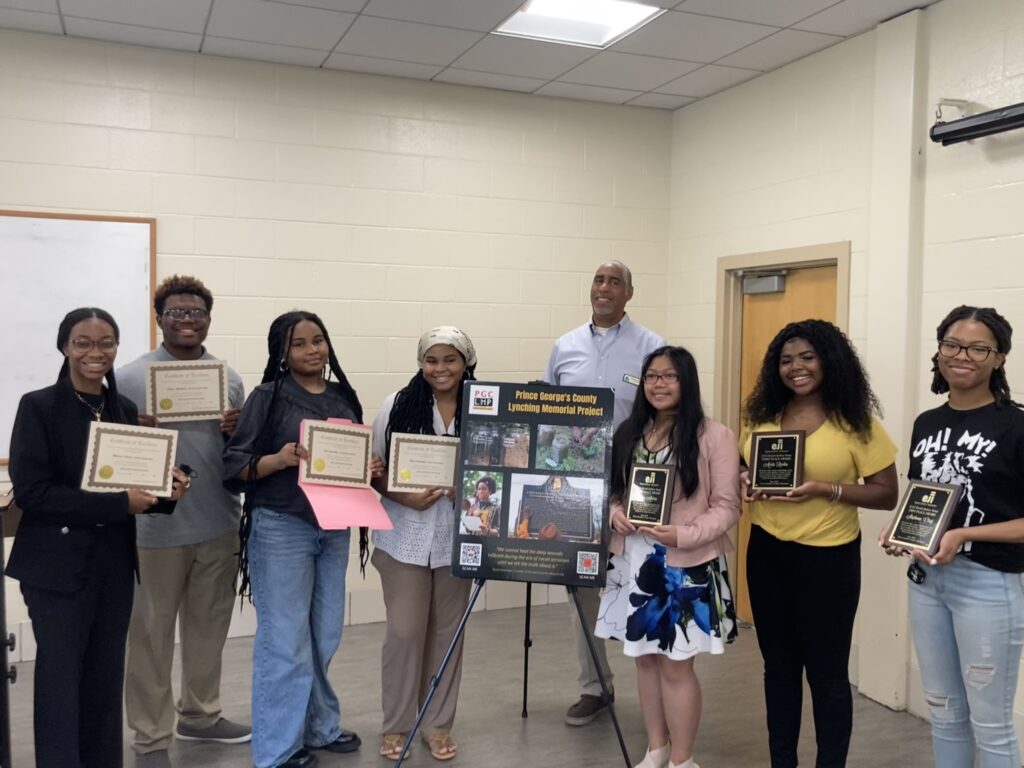 Members of our coalition celebrated the winners and their families at two county Juneteeth events: a display table at the county Parks and Recreation Department festival and an awards ceremony held at the Greenbelt Community Center. It was great for us to gather in person after a long pandemic season of meeting virtually, and it was even better to hear from the talented students who took part in our contests.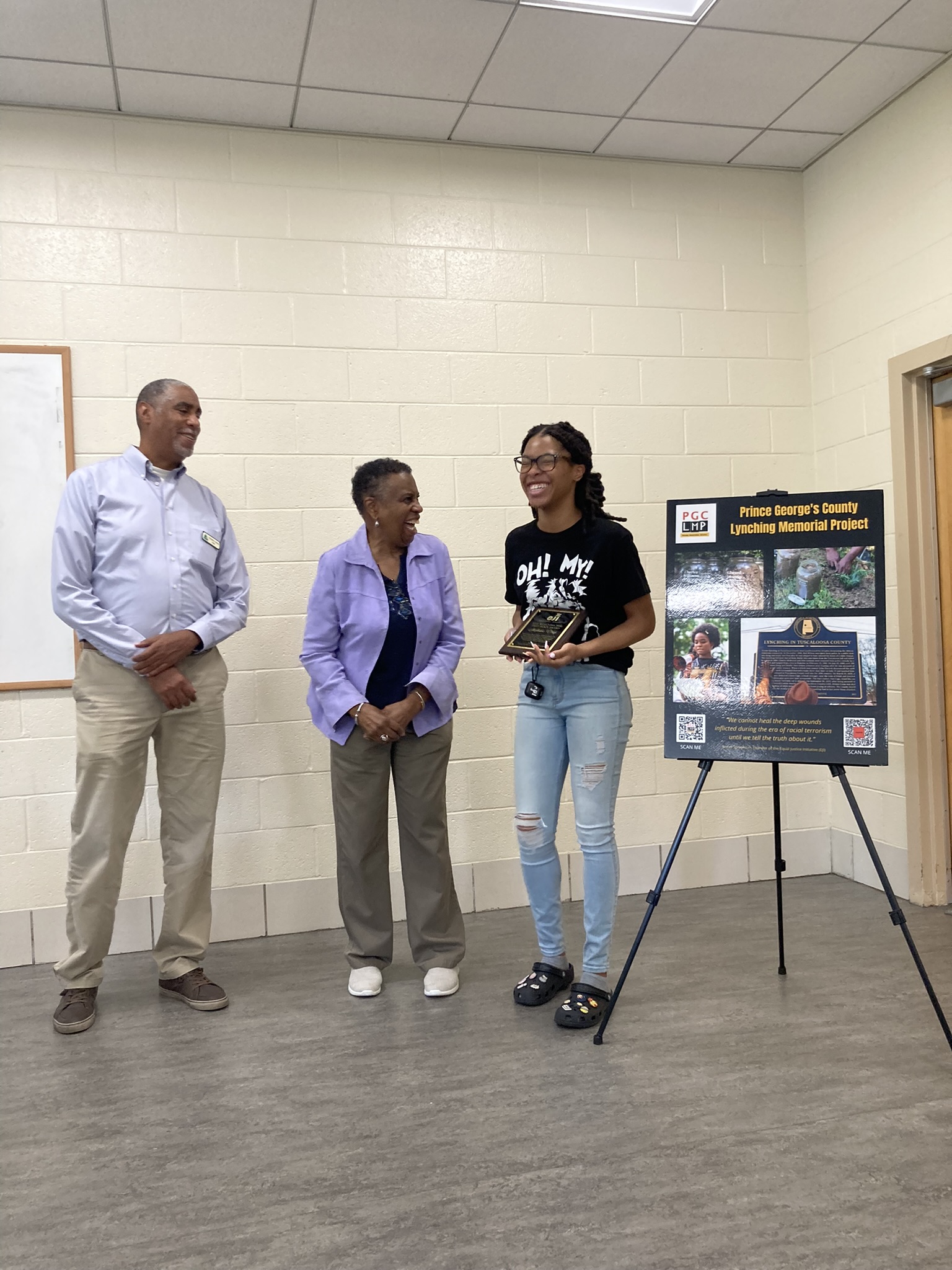 Thanks go to the city of Greenbelt for providing space for us to host our awards ceremony and to Greenbelt Access Television (GATe) for broadcasting and recording the ceremony; to our sponsor of the essay contest, the Equal Justice Initiative; and to the co-sponsors of our creative arts contest, the Prince George's County NAACP chapter and Joe's Movement Emporium; and to our guest judges from the community who selected our winners.
Thank you as well to each of the students who entered these contests. Congratulations to the following students who were selected as winners. They received an award plaque or certificate as well as scholarship money for their future educational pursuits.
Essay Contest Winners
| | | |
| --- | --- | --- |
| Name | Award | School |
| Stephanie Osuji | 1st Place | Eleanor Roosevelt High School |
| Alyssa Liverman | 2nd Place | Dr. Henry A. Wise Jr. High School |
| Miso Abitria | 3rd Place | Charles Herbert Flowers High School |
| Aleila Rankin | 3rd Place | Oxon Hill High School |
| Ji'Mie Womack | Honorable Mention | Charles Herbert Flowers High School |
| Blessing Nwoke | Honorable Mention | Eleanor Roosevelt High School |
Creative Arts Contest Winners
| | | |
| --- | --- | --- |
| Name/Title of Submission | Award/Category | School |
| Anise Lampley "Perennial Prejudice" | 1st place: Creative Writing | Oxon Hill High School |
| Chase Matthews "Hoodie" | 2nd place: Creative Writing | Home-schooled |
| Kai Lampley "The Tree of Cain" | 3rd place: Creative Writing | Oxon Hill High School |
| Chisom Amaikwu "When Race Clashes with Police" | Honorable Mention: Creative Writing | Academy of Health Sciences: Prince George's County Community College |
| Nadia McCall "Gentrified" | 1st place: Visual Arts | Charles Herbert Flowers High School |
| Richard Martin "Lynching" | 2nd place: Visual Arts | Laurel High School |
| Seanna Harper "Her Life Mattered" | 3rd place: Visual Arts | Chesapeake Math and IT (CMIT) North |
| Momdjo Ashuakpa Windioscars Mbi "Environmental Racism" | Honorable Mention: Visual Arts | Central High School |
| David Ingram "Justice" | 1st place: Spoken Word | Charles Herbert Flowers High School |
| Chelsea Nelson "Black Baby's First Misrepresentation" | 2nd place: Spoken Word | Central High School |