"Our country's national crime is lynching."

Ida B. Wells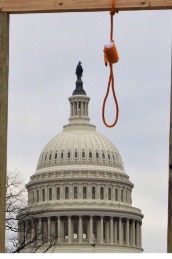 After more than 100 years of unsuccessful legislative efforts to make lynching a federal offense, it's time for justice for the victims of lynching and their communities. The Emmett Till Antilynching Act awaits approval. Your help is needed to push it through.
• Over 6400 people were lynched between 1865 and 1968, and most were African Americans. These numbers represent the documented cases; many others went unrecorded.
• Lynching (murder) is a crime that occurred in every state except four.
• Ninety-nine percent of all lynching perpetrators escaped punishment by state or local officials.
The Emmett Till Antilynching Act will make lynching a federal hate crime, allowing federal intervention and guidelines in charging, prosecuting, and sentencing perpetrators of lynching.
The bill was reintroduced by the House on January 4, 2021.
Why Support This Bill. No matter how old the crime, victims of lynching and their families deserve justice. Moreover, lynching continues and remains a threat as seen by the events of January 6, 2021.
What You Can Do. Contact your senators and representatives to urge them to vote for H.R. 55 – Emmett Till Antilynching Act. See the list of MD representatives with their contact information in the attached PDF file.