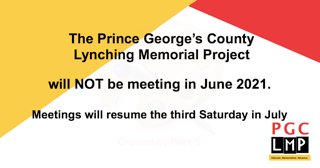 In honor of Juneteenth, the Prince George's County Lynching Memorial Project will NOT be meeting this month. Look for our next meeting in July.
To encourage all to take advantage of Juneteenth events, please see the options below.
Juneteenth Public Events
In person: City of Greenbelt activities Friday night June 18th and Saturday 19th (see flyer), co-sponsored by Greenbelt Black History and Culture Committee (co-chaired by PGC LMP members Dr. Lois Rosado and Leeann Irwin).
On-Line: Afro-American Historical and Genealogical Society-Prince George's County, Maryland Chapter (AAHGS-PGCM) Juneteenth | AAHGS | PG County
Also:
Parks and Planning may do a virtual Juneteenth event (Check site for details: http://www.pgparks.com/780/Juneteenth)
PG County Library offers several events this month (Check site for details: https://www.pgcmls.info/juneteenth )